AutoCAD® Civil 3D® Survey Fix 2013 & 2014

William Forty

William Forty
Hi folks,
A number of you have asked for an updated version of my Survey Fixing utility for Civil 3D®. So due to popular demand, creating an updated version of this tool has become my top priority. I hope to get this out to you very shortly (tomorrow, if possible).
I'd also like to take this opportunity to announce a new project that I have been working on for over a year (woohoo, it's close enough to being finished that I can mention it!).
It is... ... ... *drum-roll* ...
A new programming language for AutoCAD®!
I've called it CADBASIC. Its primary design goal from the very beginning has been to create a language that is extremely simple to use.
Because it's my own proprietary language for AutoCAD®, I have complete control over the syntax of everything, which means if you want a new command or behaviour in the language, I can add it for you, in whatever crazy wacky syntax you like.
Here's a teaser of the kind of thing I've been aiming for: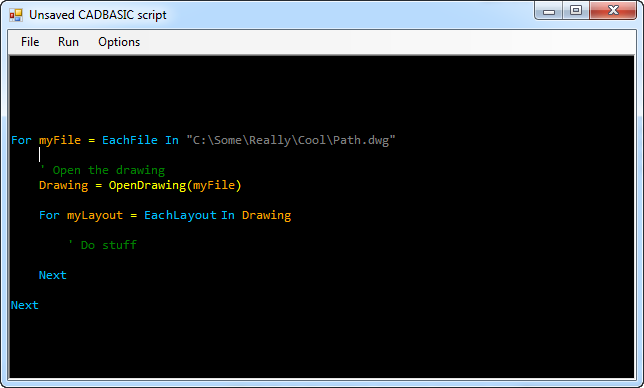 A basic example of a syntax that achieves more, with less code. Pretty trivial, but it's only indicative of the type of thing I'm aiming for, and hopefully you're all now intrigued :-)
Release date: TBC...
Will
---
Comments
Viv Howe
2014-04-17 11:22:09
Will Excellent news. Survey Fix has saved me a great deal of time on many occasions. Thanks for a brilliant tool.
Michael Haff
2014-04-17 13:59:13
Looking forward to the release of CadBasic. I would be interested in being a BETA user if you are going that route.
Will
2014-04-18 06:10:18
Great - I'm not 100% sure what route I'll go, it's quite possible that I'll want BETA testers. If I go that route, I'll post a way to sign up on here. :)
Neil Jones
2014-04-17 22:11:49
What updates have you made and will it also run in the 2015 products?
Will
2014-04-18 06:11:40
The update is just that it should now work with newer versions of Autodesk products - I'll make sure I target the latest version.