AutoCAD® MapExport to SHP creates an empty file

William Forty

William Forty
Some of you may have come across this issue before. When creating an ERSI shape file (*.shp), the resulting file is in fact empty. This is actually a bug in the software, but there is a fix.
The Export dialog box actually has a missing section, which is the cause of this bug. The section that is missing is the part where you select the object type for your shape file (Point, Line, Polygon or Text).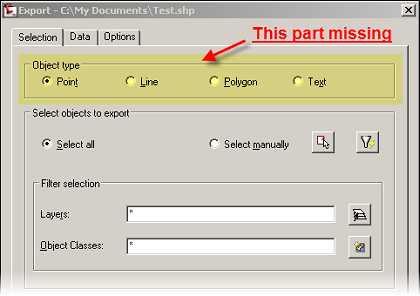 Even if you use the select all option, no objects will be selected because the object type is not set.
To make the object type options re-appear, download this file and copy it to the directory shown below, depending on what operating system you're using.
Download the MapExport File Here
Unzip this file and copy mapexport.ini to:
Windows XP
\Documents and Settings\All Users\Application Data\Autodesk\C3D 2010
Windows Vista or Windows 7
\Program Data\Autodesk\C3D 2010
This solutions works for AutoCAD® Civil 3D® 2009, AutoCAD® Civil 3D® 2010 and AutoCAD® Civil 2010.
If you found this fix helpful please do consider subscribing to my blog - I'll be regularly adding tips, tricks and fixes like this one. Its as simple as just filling out your email address below.
Will
---
Comments
No comments