The SELECTSIMILAR Command

William Forty

William Forty
On with another quick-tip today. This is a command that it took me a while to realise how useful it truly is - SELECTSIMILAR.
One of the most fundamental tasks in AutoCAD® is creating your selection to manipulate. There are many ways to select, and generally you'll end up windowing entities on screen.
But, you must remember that it is not the only way - sometimes you'll have an idea for what you want to achieve, and often another command isn't only faster, it's more semantically correct to use, and therefore less prone to errors that you might make doing it another way.
So in cases where you have objects that are in some way similar (i.e, same layer, type, colour etc), go crazy with the SELECTSIMILAR command. You'll grow to love it - trust me. There are many different object properties you can use to define what "similar" is. Typing "SE" for settings after invoking the SELECTSIMILAR command brings up this dialog box: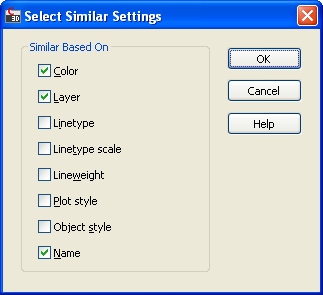 It is worth noting that if you're using one of the verticals of AutoCAD® such as Civil 3D®, there are actually variants of the SELECTSIMILAR command. For example, right clicking an object and picking the "Select Similar" object actually invokes a different command, namely the AECSELECTSIMILAR command. This variant is not governed by the same settings dialog, and does not appear to have the same level of control - for this reason I personally prefer the good old fashioned SELECTSIMILAR command.
That's all for today,
Will
P.S. please do subscribe below if you haven't already - this site is still growing fast and there's a lot more content to come!
---
Comments
Fijon
2012-01-13 15:50:45
This Autocad looks good; where is the best place to buy it? I also need a good laptop to run it, and a case for it as I travel around a lot. What about books on Autocad. Where is the best place to buy those? Pity you don't have an on-line shop really! Thanks Mike
Will
2012-01-30 10:07:51
Yes Mike, AutoCAD® IS good! I do have plans to introduce a shop on here at some point to cater for people such as yourself looking to snap up a bargain. Keep an eye out!